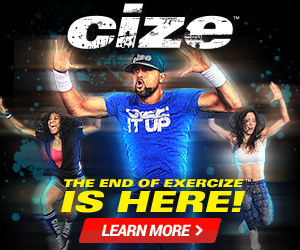 This week I started the new dance/workout program from Shaun T and Beachbody called CIZE. I had tried the program online through the on-demand feature through Beachbody. The first time doing one of the dance routines was pretty comical, I mean let's be honest I can't dance and have no rhythm. I was laughing, sweating and having fun the whole time though! A few days later I wanted to try it again because the program had just gone a sale. This time around I was a little better because I had done the moves before!
Now, you are probably thinking "there is no way I could do this" "how can this be a workout." I had the same thoughts until I purchased the program. I am on day 4 and let me tell you, I am so sore! Tuesday morning I woke up and was like how can I be sore from a 30 minute dance. Wednesday my booty and obliques (side abs) were on fire! I can't wait to see my results after I complete the 4 week program.
How the program works:
The program comes with 3 discs. On each disc there are 2 routines and the 8 minute ab workout. There are 2 options for following the program beginner which is 6 weeks long and advanced which is 4 weeks long. With the beginner you do the same routine for 6 days and the next week start a new routine. The advanced program is 2 routines per week and you alternate days. So for instance, I started this week and did 'Crazy 8's' Monday and 'You Got This' Tuesday, and then I repeat these for 6 days. Next week I start 2 new routines.
If you are thinking there is no way I could I follow or learn a dance routine. I thought the same thing! In each routine the moves are broken down step-by-step and repeated until you feel comfortable. This makes learning the routines easier. Once you have learned all the moves you get to bust out your skills to music. You will honestly have so much fun and be amazed at how good you do!
What comes with the bundle package:
The CIZE bundle package is on sale for the month of August. In the package there is:
the full set of DVDs

CIZE nutrition guide

color coated food measuring containers

shakeology and shakeology cup

workout calendar to follow

weekend survival guide
The weekend survival guide is brand new and not in any other package. If you are anything like me, the weekends are struggle, you are o
ut or you go places and your nutrition gets off track. The guide has tips and advice on how to stay committed on the weekend!
If you are looking for a new program to try, mix up your already existing routine, or just want to dance this is perfect for anyone. You do not need to be a good dancer to enjoy this program! You will tone up, drip sweat, get a workout in all while having fun!
If you are interested in joining me with CIZE or want more information email me or fill out the application below! I have online health and fitness accountability groups forming now!